ХРОНИЧЕСКИЕ ВИРУСНЫЕ ГЕПАТИТЫ В РЕСПУБЛИКЕ КАЗАХСТАН НА СОВРЕМЕННОМ ЭТАПЕ: ФАКТОРЫ, ВЛИЯЮЩИЕ НА ТЕЧЕНИЕ И ИСХОДЫ, РОЛЬ МЕТАБОЛИЧЕСКОГО СИНДРОМА
А. А. Конысбекова

Медицинский университет Астана

К. С. Калиаскарова

Медицинский университет Астана

Ф. К. Бекенова

Медицинский университет Астана
Ключевые слова:
хронический гепатит В, гепатит D, хронический гепатит С, Республика Казахстан, фиброз печени, стеатоз
Аннотация
Введение. Парентеральные вирусные гепатиты В, С и D – одна из глобальных проблем мирового здравоохранения. Цель исследования. Проанализировать влияние вирусных гепатитов в Республике Казахстан на современном этапе. Материал и методы. В исследовании применены показатели описательной статистики Научно-прак- тического центра «Санитарно-эпидемиологической экспертизы и мониторинга» Комитета по защите прав потребителей Министерства национальной экономики (МНЭ) Республики Казахстан (РК) и Комитета по статистике МНЭ РК. Результаты. В РК введение в календарь профилактических прививок вакцинации против гепатита В привело к значительному снижению заболеваемости вирусным гепатитом В среди населения младше 18 лет. Однако наблюдается рост заболеваемости дельта гепатитом, к примеру за период с 2012 по 2016 гг. заболеваемость хроническим вирусным гепатитом В с дельта агентом граждан старше 18 лет выросла на 50% и составила 0,57 случая на 100 тыс. человек. Выводы. C учетом увеличения доступа к высокоактивным противовирусным агентам в РК представле на парадигма прогнозируемой элиминации гепатита С. Актуальным становится вопрос изучения стеатоза печени в связи с возрастающим глобальным ростом метаболических нарушений, в том числе и в РК.
Литература

1. Vsemirnaja organizacija zdravoohranenija. Gepatit B v Evropejskom regione VOZ [Hepatitis B in the WHO European Region]. Informacionnyj bjulleten (ijul 2015). [Internet]. Available from: http://www.euro.who.int/__data/assets/pdf_file/0006/283452/fact-sheet-ru-hep-b.pdf?ua=1. (Russian).

2. World Health Organization. Estimations of worldwide prevalence of chronic hepatitis B virus infection: a systematic review of data published between 1965 and 2017. [Internet]. Available from: https://www.who.int/immunization/diseases/hepatitisB/HBsAg_estimates_and_methods_final_V3.pdf.

3. Esmembetov KI, Abdurahmanov DT, Odincov AV, Muhin NA. Sovremennye predstavlenija o patogeneze, estestvennom techenii i lechenii gepatita delta (35 let s momenta otkrytija) [Current concepts of pathogenesis, clinical course and treatment of hepatitis delta (35 years since its discovery)]. Klinicheskaja medicina [Clinical Medicine (RussianJournal)]. 2013;91(5):22-26. (Russian).

4. Lopatkina TN, Abdurahmanov DT, Krel PE. Gepatocelljuljarnaja karcinoma i virusy gepatita. Gepatologicheskij forum. 2005;1:20-22. (Russian).

5. World Health Organization. Kazakhstan: WHO statistical profile. [Internet]. Available from: http://www.euro.who.int/en/countries/kazakhstan.

6. Nersesov AV, Berkinbaev SF, Dzhunusbekova GA, Dzhumabaeva AE, Novickaja MS, Kuanysh N. Rasprostranennost virusnyh gepatitov sredi zhitelej Juzhno-Kazahstanskoj oblasti [Prevalence of viral hepatitis among residents of South Kazakhstan Region]. Medicina (Almaty) [Medicine (Almaty)]. 2016;9:30-33. (Russian).

7. Razavi-Shearer D, Gamkrelidze I, Nguyen MH, Chen D-S, van Damme P, Abbas Z, Abdulla M, Rached AA, Adda D, Aho I, Akarca U, Hasan F, Lawati F, Naamani K, Al-Ashgar HI, Alavian SM, Alawadhi S, Albillos A, Al-Busafi SA, Aleman S, Alfaleh FZ, Aljumah AA, Anand AC, Anh NT, Arends JE, … , Konysbekova AA, et al. Global prevalence, treatment, and prevention of hepatitis B virus infection in 2016: a modelling study. Lancet Gastroenterol. Hepatol. 2018;3(6):383-403. https://doi.org/10.1016/S2468-1253(18)30056-6.

8. Maaroufi A, Vince A, Himatt SM, Mohamed R, Fung J, Opare-Sem O, Workneh A, Njouom R, Al Ghazzawi I, Abdulla M, Kaliaskarova KS, Owusu-Ofori S, Abdelmageed MK, Adda D, Akin O, Al Baqali A, Al Dweik N, Al Ejji K, Al Kaabi S, Al Naamani K, Al Qamish J, Al Sadadi M, Al Salman J, Al Badri M, Al-Busafi SA, … , Konysbekova AA, et al. Historical epidemiology of hepatitis C virus in select countries-volume 4. J. Viral Hepat. 2017;24(Suppl 2):8-24.https://doi.org/10.1111/jvh.12762.

9. Kaliaskarova KS. Faktory progressirovanija hronicheskih virusnyh gepatitov B, C v korennoj populjacii Kazahstana [master's thesis] Karaganda (Кazahstan); 2010. 24 p. (Russian).

10. Simakova O, editor. Sbornik materialov proekta Ocenka jeffektivnosti realizacii Programmy "Salamatty Қazaқstan» na pervom jetape (2011-2013)». Almaty: CSPI "Strategija"; 2014. 76 p. (Russian).

11. Pirogova IJu, Pyshkin SA, Efremova EV, Gorfinkel AN, Pogorelova SG, Abramovskaja NV. Diagnosticheskie vozmozhnosti metodov neinvazivnoj ocenki fibroza pri diffuznyh zabolevanijah pecheni. Rossijskij zhurnal gastroenterologii, gepatologii, koloproktologii [Russian Journal of Gastroenterology, Hepatology, Coloproctology]. 2009;19(4):48-54. (Russian).

12. Byrne CD, Targher G. NAFLD: A Multisystem Disease. J. Hepatol. 62(1 Suppl):S47-64. https://doi.org/10.1016/j.jhep.2014.12.012.

13. Zhang Z, Thorne JL, Moore JB. Vitamin D and Nonalcoholic Fatty Liver Disease. Curr. Opin. Clin. Nutr. Metab. Care. 2019;22(6):449-458. https://doi.org/10.1097/MCO.0000000000000605.

14. Hoan NX, Tong VH, Song LH, Meyer CG, Velavan TP. Vitamin D deficiency and hepatitis viruses-associated liver diseases: a literature review. World J. Gastroenterol. 2018;24(4):445-460. https://doi.org/10.3748/wjg.v24.i4.445.

15. Pushkarev KA, Kausova GK, Berlizeva JuA, Vasilchenko NV, Kajrat G. Deficit vitamina D kak faktor snizhenija rabotosposobnosti u podrostkov [Vitamin D deficiency as a performance decrement factor in adolescents]. Medicina (Almaty) [Medicine (Almaty)]. 2018;2:34-38. (Russian).

16. Yurdaydin C, Idilman R, Bozkaya H, Bozdayi AM. Natural history and treatment of chronic delta hepatitis. J. Viral Hepat. 2010;17(11):749-756. https://doi.org/10.1111/j.1365-2893.2010.01353.x.

17. Nersеsov AV, Isatullaev EA, Palgova LK, Oshakbayev KP, Kaibullayeva ZhA, Raissova AM, Ashimkhanova A. On the issue of HDV-infection in Kazakhstan. Krov. 2011;2:34.

18. Didenko VI. Sovremennye dostizhenija v ocenke steatoza pecheni [Recent advances in the assessment of hepatic steatosis]. Gastroenterologija [Gastrоenterology]. 2015;3:94-100. (Russian).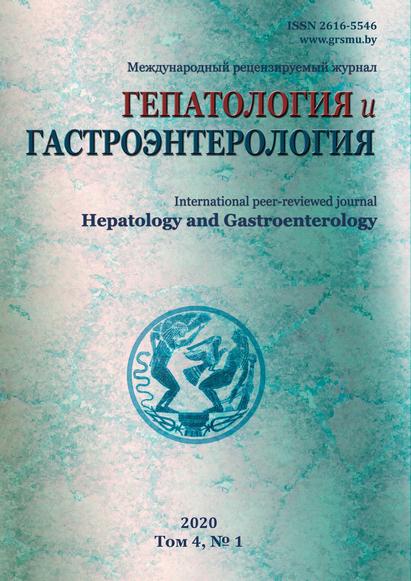 Как цитировать
1.
Конысбекова АА, Калиаскарова КС, Бекенова ФК. ХРОНИЧЕСКИЕ ВИРУСНЫЕ ГЕПАТИТЫ В РЕСПУБЛИКЕ КАЗАХСТАН НА СОВРЕМЕННОМ ЭТАПЕ: ФАКТОРЫ, ВЛИЯЮЩИЕ НА ТЕЧЕНИЕ И ИСХОДЫ, РОЛЬ МЕТАБОЛИЧЕСКОГО СИНДРОМА. journalHandG [Интернет]. 3 июнь 2020 г. [цитируется по 22 сентябрь 2023 г.];4(1):62-7. доступно на: http://hepatogastro.grsmu.by/index.php/journalHandG/article/view/139
Раздел
Оригинальные исследования