ХИРУРГИЧЕСКАЯ ТАКТИКА ПРИ НЕСОСТОЯТЕЛЬНОСТИ ЭЗОФАГО-ЭЗОФАГОАНАСТОМОЗА ВО ВРЕМЯ ЭЗОФАГОГАСТРАЛЬНОЙ ДЕВАСКУЛЯРИЗАЦИИ СО СТЕПЛЕРНОЙ ТРАНССЕКЦИЕЙ ПИЩЕВОДА
Ключевые слова:
цирроз печени, портальная гипертензия, варикозно расширенные вены пищевода, эзо- фагогастральная деваскуляризация, азигопортальное разобщение, транссекция пищевода, проксимальная резекция желудка, пластика пищевода желудком
Аннотация
Введение. Являясь на сегодняшний день резервными методами, шунтирующие и разобщающие (нешунтирующие) хирургические операции помогают добиться стабильной профилактики рецидивов кровотечений из варикозно расширенных вен пищевода. Хирургические операции азигопортального разобщения более просты в исполнении в сравнении с шунтирующими операциями, ассоциируются с меньшим риском развития энцефалопатии в послеоперационном периоде. Цель исследования – анализ результатов выполнения лапароскопической эзофагогастральной деваскуляризации со степлерной транссекцией пищевода с последующей конверсией в тораколапаротомную резекцию дистальной трети пищевода и проксимальную резекцию желудка. Материал и методы. Лапароскопическая эзофагогастральная деваскуляризация со степлерной транссекцией пищевода с последующей конверсией в тораколапаротомную резекцию дистальной трети пищевода и проксимальную резекцию желудка по поводу обширного дефекта в области аппаратного прошивания в зоне эзофаго-эзофагоанастомоза выполнена в УЗ «Гродненская университетская клиника» в феврале 2019 г. пациенту с циррозом печени, портальной гипертензией и рецидивирующими кровотечениями из варикозно расширенных вен пищевода. Результаты. Пациент выписан на амбулаторное лечение, рецидивов кровотечений из варикозно расширенных вен пищевода за период наблюдения, составляющий 12 месяцев, не было. Лапароскопическая эзофагогастральная деваскуляризация со степлерной транссекцией пищевода, являясь эффективной операцией для лечения и профилактики кровотечений из варикозно расширенных вен пищевода, в ряде случаев сопряжена с осложнениями, связанными с некорректным срабатыванием аппарата циркулярного механического шва. Выводы. Своевременная интраоперационная диагностика данных ситуаций с помощью тщательной ревизии зоны эзофаго-эзофагоанастомоза, проведение тестов на его герметичность, знание оперирующим хирургом техники корригирующих осложнения оперативных вмешательств и готовность к их выполнению позволяют предотвратить фатальные последствия для пациентов.
Литература

1. Romanelli RG, Stasi C. Recent advancements in diagnosis and therapy of liver cirrhosis. Current Drug Targets. 2016;17(15):1804-1817. https://doi.org/10.2174/1389450117666160613101413.

2. Murray CJL, Vos T, Lozano R, Naghavi M, Flaxman AD, Michaud C, Ezzati M, Shibuya K, Salomon JA, Abdalla S, Aboyans V, Abraham J, Ackerman I, Aggarwal R, Ahn SY, Ali MK, Alvarado M, Anderson HR, Anderson LM, Andrews KG, Atkinson C, Baddour LM, Bahalim AN, Barker-Collo S, Barrero LH, et al. Disability-adjusted life years (DALYs) for 291 diseases and injuries in 21 regions: a systematic analysis for the Global Burden of Disease Study 2010. Lancet. 2012;380(9859):2197-2223. https://doi.org/10.1016/S0140-6736(12)61689-4.

3. Garcia-Tsao G, Bosch J. Management of varices and variceal hemorrhage in cirrhosis. New England Journal of Medicine. 2010;362(9):823-832. https://doi.org/10.1056/nejmra0901512.

4. Bosch J, Garcia-Pagan JC. Prevention of variceal rebleeding. Lancet. 2003;361(9361):952-954. https://doi.org/10.1016/s0140-6736(03)12778-x.

5. D'Amico G, Garcia-Tsao G, Pagliaro L. Natural history and prognostic indicators of survival in cirrhosis: a systematic review of 118 studies. Journal of Hepatology. 2006;44(1):217-231. https://doi.org/10.1016/j.jhep.2005.10.013.

6. de Franchis R. Expanding consensus in portal hypertension: Report of the Baveno VI Consensus Workshop: Stratifying risk and individualizing care for portal hypertension. J Hepatology. 2015;63(3):743-752. https://doi.org/10.1016/j.jhep.2015.05.022.

7. Garcia-Tsao G, Abraldes JG, Berzigotti A, Bosch J. Portal hypertensive bleeding in cirrhosis: Risk stratification, diagnosis, and management: 2016 practice guidance by the American Association for the study of liver diseases. Hepatology. 2017;65(1):310-335. https://doi.org/10.1002/hep.28906.

8. Yoshida H, Mamada Y, Taniai N, Tajiri T. New methods for the management of esophageal varices. World Journal of Gastroenterology. 2007;13(11):1641-1645. https://doi.org/10.3748/wjg.v13.i11.1641.

9. Clark W, Hernandez J, McKeon B, Villadolid D, Al-Saadi S, Mullinax J, Ross SB. Surgical shunting versus transjugular intrahepatic portasystemic shunting for bleeding varices resulting from portal hypertension and cirrhosis: a meta-analysis. American Surgeon. 2010;76(8):857-864.

10. Cao H, Hua R, Wu Z-Y. Effects of combined splenorenal shunt devascularization and devascularization only on hemodynamics of the portal venous system in patients with portal hypertension. Hepatobiliary & Pancreatic Diseases International. 2005;4(3):385-388.

11. Yoshida H, Mamada Y, Taniai N, Tajiri T. New trends in surgical treatment for portal hypertension. Hepatology Research. 2009;39(10):1044-1051. https://doi.org/10.1111/j.1872-034X.2009.00549.x.

12. Jiang A, Zong-Fang IL, Wang DZ. Portasystemic shunt vs gastroesophageal devascularization for treatment of portal hypertension: one meta-analysis. Chinese Archives of General Surgery. 2010;4(1):76-81.

13. Voros D, Polydorou A, Polymeneas G, Vassiliou I, Melemeni A, Chondrogiannis K, Arapoglou V, Fragulidis GP. Longterm results with the modified Sugiura procedure for the management of variceal bleeding: standing the test of time in the treatment of bleeding esophageal varices. World Journal of Surgery. 2012;36(3):659-666. https://doi.org/10.1007/s00268-011-1418-7.

14. Zhang YW, Wei FX, Wei ZG, Wang GN, Wang MC, Zhang YC. Elective Splenectomy Combined with Modified Hassab's or Sugiura Procedure for Portal Hypertension in Decompensated Cirrhosis. Canadian Journal of Gastroenterology and Hepatology. 2019;2019:1-7. https://doi.org/10.1155/2019/1208614.

15. Wu YK, Wang YH, Tsai CH, Yung JC, Hwang MH. Modified hassab procedure in the management of bleeding esophageal varices a two-year experience. Hepatogastroenterology. 2002;49(43):205-207.

16. Kobayashi T, Miura K, Ishikawa H, Soma D, Zhang Z, Ando T, Yuza K, Hirose Y, Katada T, Takizawa K, Nagahashi M, Sakata J, Kameyama H, Wakai T. Hand-assisted laparoscopic Hassab's procedure for esophagogastric varices with portal hypertension. Surg Case Rep. 2017;3(1):Art. 111. https://doi.org/10.1186/s40792-017-0387-y.

17. Silva Neto WBD, Tredicci TM, Coelho FF, Makdissi FF, Herman P. Portal pressure decrease after esophagogastric devascularization and splenectomy in schistosomiasis: long-term varices behavior, rebleeding rate, and role of endoscopic treatment. Arq Gastroenterol. 2018;55(2):170-174. https://doi.org/10.1590/S0004-2803.201800000-30.

18. Lee JH, Han HS, Kim HA, Koo MY. Long-term results of fundectomy and periesophagogastric devascularization in patients with gastric fundal variceal bleeding. World J Surg. 2009;33(10):2144-2149. https://doi.org/10.1007/s00268-009-0153-9.

19. Liu Y, Li Y, Ma J, Lu L, Zhang L. A modified Hassab's operation for portal hypertension: experience with 562 cases. Journal of Surgical Research. 2013;185(1):463-486. https://doi.org/10.1016/j.jss.2013.05.046.

20. Zhou J, Wu Z, Pankaj P, Peng B. Long-term postoperative outcomes of hypersplenism: Laparoscopic versus open splenectomy secondary to liver cirrhosis. Surgical Endoscopy. 2012;26(12):3391-3400. https://doi.org/10.1007/s00464-012-2349-6.

21. Carvalho DLM, Capua JrA, Leme PLS. Portal flow and hepatic function after splenectomy and esophagogastric devascularization. International Surgery. 2009;93(6):314-320.

22. Wang HZ, Cai ZH, Zhao AX. The effects of disconnection and shunt procedure on hepatic hemodynamics and function of active cirrhotic patients with portal hypertension. Chinese Journal of Clinical Hepatology. 2002;118:309-310.

23. Jiang GQ, Bai DS, Chen P, Qian JJ, Jin SJ. Laparoscopic splenectomy and azygoportal disconnection: a systematic review. Journal of the Society of Laparoendoscopic Surgeons. 2015;19(4):e2015.00091. https://doi.org/10.4293/JSLS.2015.00091.

24. Hong DF, Zheng XY, Peng SY, Gao M, Wu JG, Cao Q. Laparoscopic splenectomy and pericardial devascularization for treatment of portal hypertension due to liver cirrhosis. Zhonghua Yi Xue Za Zhi. 2007;87:820-822.

25. Zhang L, Luo HP, Liu FL, Zhang WG. Prior Esophagogastric Devascularization Followed by Splenectomy for Liver Cirrhosis with Portal Hypertension: A Modified Laparoscopic Technique. Gastroenterol Res Pract. 2019;2019:Art. 2623749. https://doi.org/10.1155/2019/2623749.

26. Lin J, Liu Q, Liang Z, He W, Chen J, Ma J, Gu C, Wang W. Laparoscopic selective esophagogastric devascularization and splenectomy for patients with cirrhotic portal hypertension. Wideochir Inne Tech Maloinwazyjne. 2019;14(2):187-194. https://doi.org/10.5114/wiitm.2018.80297.

27. Zheng S, Sun P, Liu X, Li G, Gong W, Liu J. Efficacy and safety of laparoscopic splenectomy and esophagogastric devascularization for portal hypertension: A single-center experience. Medicine (Baltimore). 2018;97(50):e13703. https://doi.org/10.1097/MD.0000000000013703.

28. Ni YB, Gao PJ, Wang D, Li Z, Zhu JY. Esophagogastric devascularization without splenectomy in portal hypertension: safe and effective? Hepatobiliary Pancreat Dis Int. 2015;14(3):276-280.

29. Bai DS, Qian JJ, Chen P, Xia BL, Jin SJ, Zuo SQ, Jiang GQ. Laparoscopic azygoportal disconnection with and without splenectomy for portal hypertension. Int J Surg. 2016;34:116-121. https://doi.org/10.1016/j.ijsu.2016.08.519.

30. Manzano-Trovamala FJ, Guttierrez RL, Marquez GM, Garcia RA, Christen JJ, Guerrero MG. Esophagogastric devascularization and transection for bleeding esophagealvarices: first case presentation. Surg Laparosc Endosc. 1996;6(4):300-303.

31. Tsimoyiannis EC, Siakas P, Tassis A, Glantzounis G, Gogos C, Mousafiri U. Laparoscopic modified Sugiura procedure: experimental study on the pig. Int Surg. 1997;82(3):312-315.

32. Lotfy WE, Biomy TA, Abdelhamid MI, Galal SM, Refaey MM. Transabdominal gastroesophageal devascularization with versus without esophageal stapler transection in the control of variceal bleeding in cirrhotic patients. The Egyptian Journal of Surgery. 2015;34(1):56-63. https://doi.org/10.4103/1110-1121.153372.

33. Wang Q, Ding X. A Comparative Study of the Efficacy of the Modified Sugiura Procedure and the Hassab Procedure for Treatment of Rebleeding after Endoscopic Variceal Ligation Due to Portal Hypertension. The American Surgeon. 2016;82(6):557-564.

34. Dagenais M, Langer B, Taylor BR, Greig PD. Experience with radical esophagogastric devascularization procedures (Sugiura) for variceal bleeding outside Japan. World J Surg. 1994;18(2):222-228. https://doi.org/10.1007/bf00294405.

35. Sugiura M, Futagawa S. Esophageal transection with paraesophageal devascularization (Sugiura's procedure) in the treatment of esophageal varices. World J Surg. 1984;8:673-682. https://doi.org/10.1007/BF01655762.

36. Mathur SK, Shah SR, Nagral SS, Soonawala ZF. Transabdominal extensive esophagogastric devascularization with gastroesophageal stapling for management of noncirrhotic portal hypertension: long-term results. World J Surg. 1999;23:1168-1174. https://doi.org/10.1007/s002689900641.

37. Gouge TH, Ranson JH. Esophageal transection and paraesophagogastric devascularization for bleeding esophageal varices. Am J Surg. 1986;151(1):47-54. https://doi.org/10.1016/0002-9610(86)90010-3.

38. Idezuki Y, Sanjo K. Twenty-five year experience with esophageal transection for esophageal varices. J Thorac Cardiovasc Surg. 1989;98(5):876-883.

39. Comar KM, Sanyal AJ. Рortal hypertensive bleeding. Gastroenterol Clin North Am. 2003;32(4):1079-1105. https://doi.org/10.1016/s0889-8553(03)00099-2.

40. Orozco H, Takahashi T, Mercado MA, Prado E, Chan C. Surgical management of extrahepatic portal hypertension and variceal bleeding. World J Surg. 1994;18:246-250. https://doi.org/10.1007/bf00294409.

41. Mariette D, Smadja C, Borgonovo G, Grange D, Franco D. The Sugiura procedure: a prospective experience. Surgery. 1994;115(3):282-289.

42. Qazi SA, Khalid K, Hameed AM, Al-Wahabi K, Galul R, Al-Salamah SM. Transabdominal gastro-esophageal devascularization and esophageal transection for bleeding esophageal varices after failed injection sclerotherapy: long-term follow-up report. World J Surg. 2006;30(7):1329-1337. https://doi.org/10.1007/s00268-005-0372-7.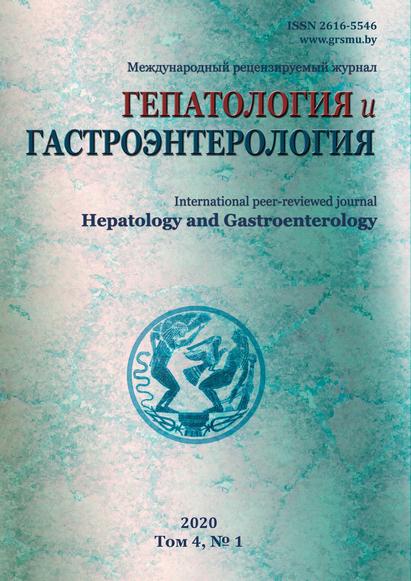 Как цитировать
1.
Могилевец ЭВ. ХИРУРГИЧЕСКАЯ ТАКТИКА ПРИ НЕСОСТОЯТЕЛЬНОСТИ ЭЗОФАГО-ЭЗОФАГОАНАСТОМОЗА ВО ВРЕМЯ ЭЗОФАГОГАСТРАЛЬНОЙ ДЕВАСКУЛЯРИЗАЦИИ СО СТЕПЛЕРНОЙ ТРАНССЕКЦИЕЙ ПИЩЕВОДА. journalHandG [Интернет]. 3 июнь 2020 г. [цитируется по 22 сентябрь 2023 г.];4(1):20-7. доступно на: http://hepatogastro.grsmu.by/index.php/journalHandG/article/view/134