КЛИНИКО-ЛАБОРАТОРНАЯ ХАРАКТЕРИСТИКА ХРОНИЧЕСКОГО ГЕПАТИТА С У ПАЦИЕНТОВ С ТУБЕРКУЛЁЗОМ ЛЁГКИХ
Г. М. Жээналиева

Жалал-Абадская областная клиническая больница

A. K. Канатбекова

Кыргызско-Российский Славянский Университет

М. М Абдикеримова

Кыргызско-Российский Славянский Университет

М. М Абдикеримов

Кыргызско-Российский Славянский Университет

С. Т. Жолдошев

Ошский государственный университет

https://orcid.org/0000-0003-3922-6659
Ключевые слова:
хронический гепатит С, туберкулёз лёгких, клинические проявления, биохимические показатели
Аннотация
Введение. Туберкулёз в сочетании с парентеральными вирусными гепатитами – важнейшая медико-социальная проблема для здравоохранения всего мира в связи с широкой распространенностью данных заболеваний, влекущих за собой большие экономические потери, связанные с хронизацией инфекций, развитием грозных осложнений и неблагоприятных исходов. Цель исследования – установить клинико-лабораторные характеристики хронического гепатита С (ХГС) у пациентов с туберкулёзом лёгких. Материал и методы. В работе представлены результаты комплексного обследования и динамического наблюдения 69 пациентов с ХГС в сочетании с туберкулёзом лёгких, средний возраст которых составил 43,8±4,22 года. Результаты. Выявлены клинические особенности течения ХГС у пациентов с туберкулёзом лёгких, заключающиеся в латентном течении у 97,1±2,0% пациентов с наличием слабовыраженных клинических признаков. Наиболее частое проявление - астеновегетативный синдром (92,7±3,0%), обусловленный туберкулёзной интоксикацией. Сочетанный туберкулёзный процесс оказывал влияние на динамику биохимических показателей в виде более значительного их отклонения от нормы, отмечающегося после трехмесячной противотуберкулёзной терапии (р<0,05). Выводы. Сопутствующий туберкулёзный процесс неблагоприятно влияет на клинико-лабораторные показатели при естественном течении ХГС.
Литература

1.Asratjan AA, Solovev DV, Rodina OV, Garmash JuJu, Litvinov VI, Musina EE, Mardanly SG, Kazarjan SM, Kjuregjan KK, Popova OV, Rusakova EV. Klinikojepidemiologicheskie osobennosti gepatitov B i C u bolnyh tuberkulezom legkih [Clinical and Epidemiological Features of Hepatitis B and C in Patients with Pulmonary Tuberculosis]. Jepidemiologija i vakcinoprofilaktika [Epidemiology and Vaccinal Prevention]. 2013;6(73):20-27. (Russian).

2. Ahundova IM, Mamedov MK, Dadasheva AJe, Rzaeva HR. Bolnye tuberkulezom, inficirovannye virusami gepatitov B i C, kak osobyj klinicheskij kontingent pacientov [Tuberculosis patients infected with hepatitis B and C viruses as a special clinical contingent of patients]. Tuberkulez i bolezni legkih [Tuberculosis and Lung Diseases]. 2011;88(8):51-54. (Russian).

3. Vsemirnaja organizacija zdravoohranenija. Bjulleten programmy VOZ po borbe s tuberkulezom v Rossijskoj Federacii. Vol. 7. Moskva, 2008. 36 p. (Russian).

4. Chien JY, Huang RM, Wang JY, Ruan SY, Chien YJ, Yu CJ, Yang PC. Hepatitis C virus infection increases hepatitis risk during anti-tuberculosis treatment. Int. J. Tuberc. Lung Dis. 2010;14(5):616-621.

5. Gombos CG. Pop M, Rajnoveanu R. The main causes which lead to immediate and belated failure in tuberculosis. Europ. Resp. J. 2005;26(Suppl 40):944.

6. Galickij LA, Zareckij BV, Lebedinec AI. Virusnyj gepatit B vo ftiziatricheskoj praktike. Bolshoj Celevoj Zhurnal o tuberkuleze. 1999;4:10-12. (Russian).

7. Guryljova MJe. Tuberkuljoz i zabolevanija pecheni. In: Perelman MI, editor. Ftiziatrija. Nacionalnoe rukovodstvo. Moskva: GJeOTAR-Media; 2007. p. 349-351. (Russian).

8. Ivashkin VT, Maevskaja MV, Zharkova MS, Tihonov IN, Fedosina EA, Pavlov ChS. Algoritmy diagnostiki i lechenija v gepatologii. Мoskva: MEDPress-inform; 2016. 163 p. (Russian).

9. Onishchenko GG, Dementeva LA. Spread of hepatitis virus AS a threat to national security. Zhurnal mikrobiologii, jepidemiologii i immunobiologii. [Journal of Microbiology, Epidemiology and Immunobiology]. 2003;4:93-99.

10. Petrenko TI, Filimonov PN. Hronicheskij virusnyj gepatit u pacienta s tuberkuljozom ljogkih. In: Perelman MI, editor. Tuberkuljoz v Rossii. God 2007. Materialy VIII Rossijskogo sezda ftiziatrov; 2007 Jun. 6-8; Moskva. Moskva: Ideja; 2007. p. 412. (Russian).

11. Pokrovskij VI, Pak SG, Briko NI, Danilkin BK. Infekcionnye bolezni i jepidemiologija. Moskva: GJeOTAR-Media; 2013. 1008 p. (Russian).

12. Rzaeva NR, Mamedov MK, Mamedbekov JeN, Dadasheva AJe. Infekcii, vyzvannye virusami gepatitov B i C u bolnyh tuberkuljozom ljogkih: osobennosti rasprostranenija i znachenija. Mir virusnyh gepatitov. 2008;5:22-25. (Russian).

13. Solovev DV. Jepidemiologicheskie osobennosti virusnyh gepatitov B i C u bolnyh tuberkulezom legkih i taktika ih profilaktiki [master's thesis]. Мoskva (Russian); 2012. 23 p. (Russian).

14. Shahgildjan IV, Jasinskij AA, Mihajlov MI, Ershova ON, Huhlovich PA, Hasanova VA, Lytkina IN, Shulakova NI, Romanenko VV, Patlusova VV, Kolenova TV, Oorzhak ND, Korshunova GS, Klimenko SM. Hronicheskie gepatity v Rossijskoj Federacii [Chronic hepatitis in the Russian Federation]. Jepidemiologija i infekcionnye bolezni [Epidemiology and Infectious Diseases]. 2008;6:12-15. (Russian).

15. Alter MJ, Mast EE, Moyer LA, Margolis HS. Hepatitis С. Infect. Dis. Clin. North Am. 1998;12(1):13-26. https://doi.org/10.1016/s0891-5520(05)70405-0.

16. Damen M, Reesink HW. Hepatitis В the actual problem public health. The Netherlands J. of Med. 1995;46(3):A11-A14.

17. Sherlock S, Dooley JS. Diseases of the liver and biliary system. 10th ed. New York: Wiley; 1997. p. 289-296.

18. Arjamkina OL, Savonenkova LN, Ruzov VI, Midlenko VI, Gnoevyh VV, Razin VA, Gimaev RH. Hronicheskij gepatit pri legochnom, vnelegochnom i abdominalnom tuberkuljoze [The chronic hepatitis under pulmonary, extra-pulmonary and abdominal tuberculosis]. Klinicheskaja laboratornaja diagnostika [Russian Clinical Laboratory Diagnostics Journal]. 2017;62(8):462-467. (Russian).

19. Mishin VJu, Chukanov VI, Vylengzhanin SV. Jeffektivnost standartnogo rezhima himioterapii pri lechenii vpervye vyjavlennyh bolnyh destruktivnym tuberkuljozom ljogkih s bakteriovydeleniem. Tuberkulez i bolezni legkih [Tuberculosis and Lung Diseases]. 2001;78(7):13-17. (Russian).

20. Pritulina JuG, Fil GV, Kornienko SV, Plohotnjuk NV. Novye podhody k patogeneticheskoj terapii bolnyh, stradajushhih tuberkulezom i virusnym gepatitom C [New approaches to pathogenetic therapy of patients suffering with tuberculosis and viral hepatitis C]. Jeksperimentalnaja i klinicheskaja gastrojenterologija [Experimental and Clinical Gastroenterology Journal]. 2018;7:97-101. (Russian).

21. Talanova OS. Kliniko-diagnosticheskaja ocenka komorbidnogo techenija hronicheskogo virusnogo i tuberkuleznogo gepatita [master's thesis]. Uljanovsk (Russian); 2013. 138 p. (Russian).

22. Gramada D, Enache M, Gramada A. Hepatic disorders in patients with pulmonary tuberculosis. Europ. Resp. J. 2005;26(Suppl 40):2660.

23. Iravani YM, Masjedi MR, Yazdanpanach M. Antituberculosis drug-related liver dysfunction hepatitis B, C and role of age as a risk factor. Intern. J. Tuberc. And Lung Dis. 2001;5(11):118.

24. Shigetoh E, Murakami I, Yokosaki Y, Kurimoto N. Treatment Outcomes of Multidrug-Resistant Tuberculosis -Comparison Between Success and Failure Cases. Kekkaku [Tuberculosis]. 2001;76(12):723-28. (Japanese).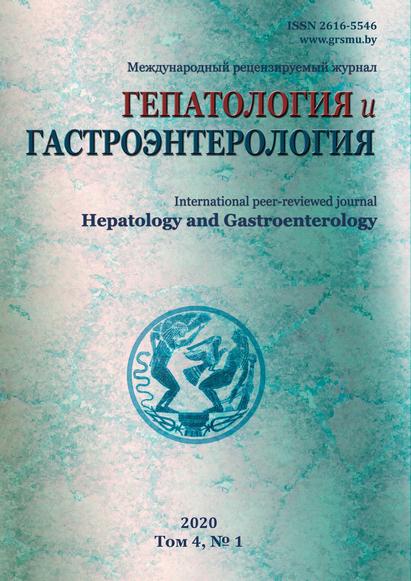 Как цитировать
1.
Жээналиева ГМ, КанатбековаAK, Абдикеримова ММ, Абдикеримов ММ, Жолдошев СТ. КЛИНИКО-ЛАБОРАТОРНАЯ ХАРАКТЕРИСТИКА ХРОНИЧЕСКОГО ГЕПАТИТА С У ПАЦИЕНТОВ С ТУБЕРКУЛЁЗОМ ЛЁГКИХ. journalHandG [Интернет]. 3 июнь 2020 г. [цитируется по 22 сентябрь 2023 г.];4(1):76-0. доступно на: http://hepatogastro.grsmu.by/index.php/journalHandG/article/view/141
Раздел
Оригинальные исследования