ПАНКРЕАТИЧЕСКИЕ ЗВЕЗДЧАТЫЕ КЛЕТКИ: СТРУКТУРА И ФУНКЦИЯ. ЧАСТЬ 1. МОРФОФУНКЦИОНАЛЬНАЯ ХАРАКТЕРИСТИКА ПАНКРЕАТИЧЕСКИХ ЗВЕЗДЧАТЫХ КЛЕТОК В ФИЗИОЛОГИЧЕСКИХ УСЛОВИЯХ
Л. А. Можейко (L. A. Mozheiko)

УО «Гродненский государственный медицинский университет»
Ключевые слова:
покоящиеся звездчатые клетки, поджелудочная железа
Аннотация

Цель обзора – на основе научных литературных сведений дать современную морфофункциональную характеристику звездчатых клеток здоровой поджелудочной железы.
Установлено, что в физиологическом состоянии звездчатые клетки поджелудочной железы составляют небольшое количество по сравнению с другими панкреатическими клетками (4-7%). Они присутствуют в периацинарном пространстве, охватывая длинными цитоплазматическими отростками основание ацинуса, а также встречаются около выводных протоков и кровеносных сосудов. Специфическим признаком панкреатических звездчатых клеток является экспрессия глиального фибриллярного кислого белка. Покоящиеся звездчатые клетки характеризуются наличием витамин А-депонирующих липидных капель. Они выполняют существенную роль в поддержании нормальной структуры органа, регулируя синтез и разрушение белков внеклеточного матрикса. Предполагаются также другие функции панкреатических звездчатых клеток, такие как прогениторная, иммунная и медиаторная.
Литература

1. Bachem MG, Schmid-Kotsas A, Siech M, Beger HG, Gress T, Adler G. Pancreatic stellate cells and their role in fibrogenesis. In: Johnson CD, Imrie CW. Pancreatic diseas, basic science and clinical management. London: Springer-Verlag; 2004. p. 226-239. doi:10.1007/978-1-85233-904-3.

2. Erkan M, Adler G, Apte MV, Bachem MG, Buchholz M, Detlefsen S, Esposito I, Friess H, Gress TM, Habisch HJ, Hwang RF, Jaster R, Kleeff J, Kloppel G, Kordes C, Logsdon CD, Masamune A, Michalski CW, Oh J, Phillips PA, Pinzani M, Reiser-Erkan C, Tsukamoto H, Wilson StellaTUM: current consensus and discussion on pancreatic stellate cell research. Gut. 2012;61(2):172-178. doi:10.1136/gutjnl-2011-301220.

3. Ferdek PE, Jakubowska MA. Biology of pancreatic stellate cells-more than just pancreatic cancer. Pflugers Arch. 2017;469(9):1039-1050. doi. 10.1007/s00424-017-1968-0.

4. Sirenko OYu. Pancreatic stellate cells as a morphological basis for the development of pancreas fibrosis. Morfologiya. 2010;IV(1):5-12. (Ukrainian).

5. Apte M, Pirola RC, Wilson JS. Pancreatic stellate cell: physiologic role, role in fibrosis and cancer. Curr. Opin. Gastroenterol. 2015;31(5):416-423. doi: 10.1097/MOG.0000000000000196.

6. Bynigeri RR, Jakkampudi A, Jangala R, Subramanyam C, Sasikala M, Rao GV, Reddy DN, Talukdar R. Pancreatic stellate cell: Pandora's box for pancreatic disease biology. World J. Gastroenterol. 2017;23(3):382-405. doi: 10.3748/wjg.v23.i3.382.

7. Ito T. Cytological studies on stellate cells of Kupffer and fat storing cells in the capillary wall of the human liver. Acta. Anat. Nippo. 1951;26:42.

8. Wake K. "Sternzellen" in the liver: perisinusoidal cells with special reference to storage of vitamin A. Am. J. Anat. 1971;132(4):429-462. doi: 10.1002/aja.1001320404.

9. Watari N, Hotta Y, Mabuchi Y. Morphological studies on a vitamin A-storing cell and its complex with macrophage observed in mouse pancreatic tissues following excess vitamin A administration. Okajimas Folia Anat. Jpn. 1982;58(4-6):837-858.

10. Ikejiri N. The vitamin A-storing cells in the human and rat pancreas. Kurume Med. J. 1990;37(2):67-81.

11. Apte MV, Haber PS, Applegate TL, Norton ID, McCaughan GW, Korsten MA, Pirola RC, Wilson JS. Periacinar stellate shaped cells in rat pancreas: identification, isolation, and culture. Gut. 1998;43(1):128-133.

12. Bachem MG, Schneider E, Gross H, Weidenbach H, Schmid RM, Menke A, Siech M, Beger H, Grünert A, Adler G. Identification, culture, and characterization of pancreatic stellate cells in rats and humans. Gastroenterology. 1998;115(2):421-432.

13. Apte MV, Wilson JS. Dangerous liaisons: pancreatic stellate cells and pancreatic cancer cells. J. Gastroenterol. Hepatol. 2012;27(2):69-74. doi: 10.1111/j.1440-1746.2011.07000.x.

14. Cassiman D, Barlow A, Vander Borght S, Libbrecht L, Pachnis V. Hepatic stellate cells do not derive from the neural crest. J. Hepatol. 2006;44(6):1098-1104. doi: 10.1016/j.jhep.2005.09.023.

15. Asahina K, Tsai SY, Li P, Ishii M, Maxson RE Jr, Sucov HM, Tsukamoto H. Mesenchymal origin of hepatic stellate cells, submesothelial cells, and perivascular mesenchymal cells during mouse liver development. Hepatology. 2009;49(3):998-1011. doi: 10.1002/hep.22721.

16. Asahina K, Zhou B, Pu WT, Tsukamoto H. Septum transversum- derived mesothelium gives rise to hepatic stellate cells and perivascular mesenchymal cells in developing mouse liver. Hepatology. 2011;53(3):983-995. doi: 10.1002/hep.24119.

17. Marrache F, Pendyala S, Bhagat G, Betz KS, Song Z, Wang TC. Role of bone marrow-derived cells in experimental chronic pancreatitis. Gut. 2008;57(8):1113-1120. doi: 10.1136/gut.2007.143271.

18. Scarlett CJ, Colvin EK, Pinese M, Chang DK, Morey AL, Musgrove EA, Pajic M, Apte M, Henshall SM, Sutherland RL, Kench JG, Biankin AV. Recruitment and activation of pancreatic stellate cells from the bone marrow in pancreatic cancer: a model of tumor-host interaction. PLoS One. 2011;6(10): e26088. doi: 10.1371/journal. Pone. 0026088.

19. Sparmann G, Kruse ML, Hofmeister-Mielke N, Koczan D, Jaster R, Liebe S, Wolff D, Emmrich J. Bone marrow-derived pancreatic stellate cells in rats. Cell Res. 2010;20(3):288-298. doi: 10.1038/cr.2010.10.

20. Ino K, Masuya M, Tawara I, Miyata E, Oda K, Nakamori Y, Suzuki K, Ohishi K, Katayama N. Monocytes infiltrate the pancreas via the MCP-1/CCR2 pathway and differentiate into stellate cells. PLoS One. 2014;9(1):e84889. doi: 10.1371/journal. pone.0084889.

21. Buchholz M, Kestler HA, Holzmann K, Ellenrieder V, Schneiderhan W, Siech M, Adler G, Bachem MG, Gress TM. Transcriptome analysis of human hepatic and pancreatic stellate cells: organ-specific variations of a common transcriptional phenotype. J. Mol. Med. 2005;83(10):795-805. doi: 10.1007/ s00109-005-0680-2.

22. Zha M, Li F, Xu W, Chen B, Sun Z. Isolation and characterization of islet stellate cells in rat. Islets. 2014;6(2):e28701. doi: 10.4161/ isl.28701.

23. Zhao L, Burt AD. The diffuse stellate cell system. J. Mol. Histol. 2007;38(1):53-64. doi: 10.1007/s10735-007-9078-5.

24. Blaner WS, Hendriks HF, Brouwer A, de Leeuw AM, Knook DL, Goodman DS. Retinoids, retinoid-binding proteins, and retinyl palmitate hydrolase distributions in different types of rat liver cells. J. Lipid. Res. 1985;26(10):1241-1251.

25. Blomhoff R, Wake K. Perisinusoidal stellate cells of the liver: important roles in retinol metabolism and fibrosis. FASEB. J. 1991;5(3):271-277.

26. Ikejiri N. The vitamin A-storing cells in the human and rat pancreas. Kurume Med. J. 1990;37(2):67-81.

27. Barnard JH, Collings JC, Whiting A, Przyborski SA, Marder TB. Synthetic retinoids: structure-activity relationships. Chemistry. 2009;15(43):11430-11442. doi: 10.1002/chem.200901952.

28. Tulachan SS, Doi R, Kawaguchi Y, Tsuji S, Nakajima S, Masui T, Koizumi M, Toyoda E, Mori T, Ito D, Kami K, Fujimoto K, Imamura M. All-trans retinoic acid induces differentiation of ducts and endocrine cells by mesenchymal epithelial interactions in embryonic pancreas. Diabetes.2003;52(1):76-84.

29. Duester G. Retinoic acid synthesis and signaling during early. Cell. 2008;134(6):921-931. doi: 10.1016/j.cell.2008.09.002.

30. Rhinn M, Dollé P. Retinoic acid signalling during development. Development. 2012;139(5):843-858. doi: 10.1242/dev.065938.

31. Huang W, Wang G, Delaspre F, Vitery Mdel C, Beer RL, Parsons MJ. Retinoic acid plays an evolutionarily conserved and biphasic role in pancreas development. Dev. Biol. 2014;394(1):83-93. doi: 10.1016/j.ydbio.2014.07.021.

32. Kane MA, Folias AE, Pingitore A, Perri M, Obrochta KM, Krois CR, Cione E, Ryu JY, Napoli JL. Identification of 9-cisretinoic acid as a pancreas-specific autacoid that attenuates glucose-stimulated insulin secretion. Proc. Natl. Acad. Sci. USA. 2010;107(50):21884-21889. doi: 10.1073/pnas.1008859107.

33. Kim N, Yoo W, Lee J, Kim H, Lee H, Kim YS, Kim DU, Oh J. Formation of vitamin a lipid droplets in pancreatic stellate cells requires albumin. Gut. 2009;58(10):1382-1390. doi: 10.1136/gut.2008.170233.

34. Kim N, Choi S, Lim C, Lee H, Oh J. Albumin mediates PPARgamma or C/EBP-alpha-induced phenotypic changes in pancreatic stellate cells. Biochem. Biophys. Res. Commun. 2010;391(1):640-644. doi: 10.1016/j.bbrc.2009.11.112.

35. Phillips PA, McCarroll JA, Park S, Wu MJ, Pirola R, Korsten M, Wilson JS, Apte MV. Rat pancreatic stellate cells secrete matrix metalloproteinases: implications for extracellular matrix turnover. Gut. 52(2):275-282.

36. Paulo JA, Urrutia R, Banks PA, Conwell DL, Steen H. Proteomic analysis of a rat pancreatic stellate cell line using liquid chromatography tandem mass spectrometry (LC-MS/MS). J. Proteomics. 2011;75(2):708-717. doi: 10.1016/j.jprot.2011.09.009.

37. Wehr AY, Furth EE, Sangar V, Blair IA, Yu KH. Analysis of the human pancreatic stellate cell secreted proteome. Pancreas. 2011;40(4):557-566. doi: 10.1097/MPA.0b013e318214efaf.

38. Homo-Delarche F, Calderari S, Irminger JC, Gangnerau MN, Coulaud J, Rickenbach K, Dolz M, Halban P, Portha B, Serradas P. Islet inflammation and fibrosis in a spontaneous model of type 2 diabetes, the GK rat. Diabetes. 2006;55(6):1625-1633. doi: 10.2337/db05-1526.

39. Mato E, Lucas M, Petriz J, Gomis R, Novials A. Identification of a pancreatic stellate cell population with properties of progenitor cells: new role for stellate cells in the pancreas. Biochem. J. 2009;421(2):181-191. doi: 10.1042/BJ20081466.

40. Abdulhakova AR, Galjavieva AR, Abdulhakov SR, Trondin AA, Pevnev GO, Titova MA, Gumerova AA, Kijasov AP. Rol zvezdchatyh kletok podzheludochnoj zhelezy v regeneracii organa na fone med-deficitnoj diety u krys. Geny i kletki. 2014;9(3-А):41-44. (Russian).

41. Kordes C1, Sawitza I, Götze S, Häussinger D. Stellate cells from rat pancreas are stem cells and can contribute to liver regeneration. PLoS ONE. 2012;7(12):e51878. doi:10.1371/journal. pone. 0051878.

42. Shimizu K, Kobayashi M, Tahara J, Shiratori K. Cytokines and peroxisome proliferator-activated receptor gamma ligand regulate phagocytosis by pancreatic stellate cells. Gastroenterology. 2005;128(7):2105-2118.

43. Masamune A, Kikuta K, Watanabe T, Satoh K, Satoh A, Shimosegawa T. Pancreatic stellate cells express toll-like receptors. J. Gastroenterol. 2008;43(5):352-362. doi: 10.1007/s00535-008-2162-0.

44. Unanue ER. Ito cells, stellate cells, and myofibroblasts: new actors in antigen presentation. Immunity. 2007;26(1):9-10. doi: 10.1016/j.immuni.2007.01.001.

45. Winau F, Hegasy G, Weiskirchen R, Weber S, Cassan C, Sieling PA, Modlin RL, Liblau RS, Gressner AM, Kaufmann SH. Ito cells are liver- resident antigen- presenting cells for activating T cell responses. Immunity. 2007;26(1):117-129. doi: 10.1016/j.immuni.2006.11.011.

46. Phillips PA, Yang L, Shulkes A, Vonlaufen A, Poljak A, Bustamante S, Warren A, Xu Z, Guilhaus M, Pirola R, Apte MV, Wilson JS. Pancreatic stellate cells produce acetylcholine and may play a role in pancreatic exocrine secretion. Proc. Natl. Acad. Sci. USA. 2010:107(40):17397-17402. doi: 10.1073/pnas.1000359107.

47. Berna MJ, Seiz O, Nast JF, Benten D, Bläker M, Koch J, Lohse AW, Pace A. CCK1 and CCK2 receptors are expressed on pancreatic stellate cells and induce collagen production. J. Biol. Chem. 2010;285(50):38905-38914. doi: 10.1074/jbc.M110.125534.

48. Gryshchenko O, Gerasimenko JV, Gerasimenko OV, Petersen OH. Ca2+ signals mediated by bradykinin type 2 receptors in normal pancreatic stellate cells can be inhibited by specific Ca2+ channel blockade. J. Physiol. 2016;594(2):281-293. doi: 10.1113/JP271468.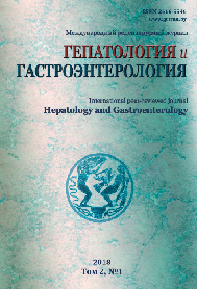 Просмотров аннотации: 62 Загрузок PDF: 67