НАРУШЕНИЕ ОБМЕНА АМИНОКИСЛОТ И РОДСТВЕННЫХ СОЕДИНЕНИЙ ПРИ ГЕПАТОБИЛИАРНОЙ ПАТОЛОГИИ
Ключевые слова:
поражения печени, аминокислоты, биогенные амины
Аннотация

В обзоре представлены данные о характере аминокислотного дисбаланса при разных заболеваниях печени и их осложнениях. Раскрываются патогенетические механизмы расстройств барьерной, метаболической и экскреторной функций печени с учетом влияния данных процессов на другие системы органов.
Литература

1. Sorokina EJu. Ostrye narushenija funkcii pecheni u pacientov otdelenija intensivnoj terapii i metody metabolicheskoj terapii [Acute hepatic impairment in intensive care patients and metabolic methods]. Medicina neotlozhnyh sostojanij [Emergency Medicine]. 2015;(8):35-45. (Russian).

2. Indiveri C, Tonazzi A, Stipani I, Palmieri F. The purified and reconstituted ornithine/citrulline carrier from rat liver mitochondria catalyses a second transport mode: ornithine+/H+ exchange. Biochem. J. 1999;341(3):705-711.

3. Antonenko OM. Pechenochnaja jencefalopatija: osobennosti techenija i korrekcii metabolicheskih narushenij [Hepatic encephalopathy: features of the course and correction of metabolic disorders]. Hirurgija (Prilozhenie k zhurnalu Consilium Medicum) [Surgery. Consilium Medicum Magazine Supplement]. 2010;2:19-23. (Russian).

4. Shherbenkov IM. Pechenochnaja nedostatochnost [Liver failure]. Gastrojenterologija [Gastroenterology]. 2009;1:37-41. (Russian).

5. Serov VV, Aprosina ZG. Hronicheskie virusnye gepatity [Chronic viral hepatitis]. Moskva: Medicina; 2004. 583 p. (Russian).

6. Majer KP. Gepatit i posledstvija gepatita [Hepatitis and the effects of hepatitis]. Moskva: GJeOTAR-Media; 2004. 717 p. (Russian).

7. Bueverov AO, Maevskaja MV. Trudnye voprosy diagnostiki i lechenija pechenochnoj jencefalopatii [Difficult issues in the diagnosis and treatment of hepatic encephalopathy. Klinicheskie perspektivy gastrojenterologii, gepatologii [Clinical prospects of gastroenterology, hepatology]. 2005;10:9-15. (Russian).

8. Sitnikov IG, Maleev VV, Fedorov VN, Shoshin AA. Nejromediatornoe zveno patogeneza ostryh gepatitov V i S [The neurotransmitter link in the pathogenesis of acute hepatitis B and C]. Infekcionnye bolezni [Infectious diseases]. 2006;4(4):32-36. (Russian).

9. Shejko MI. K obmenu kateholaminov pri infekcionnom gepatite [To the exchange of catecholamines with infectious hepatitis] [masters thesis]. Minsk (Belarus): Belarusian State Institute for Advanced Medical Studies; 1975. 20 p. (Russian).

10. Shaposhnikov AM, Halchickij SE. Patohimija obmena fenilalanina, tirozina, triptofana i aktivnost fenilalaningndrokilazy pecheni pri virusnyh gepatitah [Pathochemistry of the metabolism of phenylalanine, tyrosine, tryptophan and the activity of liver phenylalanine indrocylase in viral hepatitis]. Estestvennye i tehnicheskie nauki [Natural and technical sciences]. 2007;2:137-154. (Russian).

11. Joy T, Walsh G, Tokmakejian S, Van Uum SH. Increase of urinary 5-hydroxyindoleacetic acid excretion but not serum chromogranin A following over-the-counter 5-hydroxytryptophan intake. Can. J. Gastroenterol. 2008;22(1):49-53. doi: 10.1155/2008/472159.

12. Glagovskij PB, Mamedov IS, Toguzov RT. Osnovnye metabolity adrenalina, noradrenalina, dofamina I serotonina v laboratornoj diagnostike narkomanij [The main metabolites of adrenaline, norepinephrine, dopamine and serotonin in the laboratory diagnosis of drug addiction]. Kliniko-laboratornyj konsilium [Clinical and laboratory consultation]. 2010;(1):27-34. (Russian).

13. Garaeva SN, Redkozubova GV, Postolati GV. Aminokisloty v zhivom organizme [Amino Acids in a Living Body]. Kishinev: ASM; 2009. 552 p. (Russian).

14. Zhang J, Song S, Pang Q, Zhang R, Zhou L, Liu S, Meng F, Wu Q, Liu C. Serotonin deficiency exacerbates acetaminophen-induced liver toxicity in mice. Sci. Rep. 2015;5:8098. doi: 10.1038/srep08098.

15. Alekseeva AS. Kliniko-morfologicheskie projavlenija hronicheskih gepatitov i cirrozov pecheni razlichnoj jetiologii vo vzaimosvjazi s psihologicheskim profilem I kachestvom zhizni pacientov [Clinical and morphological manifestations of chronic hepatitis and liver cirrhosis of various etiologies in relation to the psychological profile and quality of life of patients] [masters thesis]. Tomsk (Russia):Sibirskij gosudarstvennyj medicinskij universitet; 2010. 43 р. (Russian).

16. Alekceeva AS, Beloborodova JeI, Rachkovskij MI, Naumova EL, Lambrov EG, Filippova LP. Pokazateli obmena serotonina u bol'nyh s hronicheskimi gepatitami I cirrozami pecheni [Serotonin metabolism in patients with chronic hepatitis and cirrhosis]. Bjulleten jeksperimentalnoj biologii i mediciny [Bulletin of Experimental Biology and Medicine]. 2008;146(11):512-514. (Russian).

17. Mamedov IS, Glagovskij LB, Tjurin IA, Toguzov RT. Znachimost opredelenija osnovnyh metabolitov serotonina i kateholaminov (HVA, VMA, 5-HIAA) v klinicheskoj laboratornoj diagnostike [The importance of determining the major metabolites of serotonin and catecholamines (HVA, VMA, 5-HIAA) in clinical laboratory diagnostics]. Klinicheskaja laboratornaja diagnostika [Russian Clinical Laboratory Diagnostics]. 2007;9:80. (Russian).

18. Lelevich VV, Artemova OV. Sostojanie pula svobodnyh aminokislot krovi i pecheni pri hronicheskoj alkogolnoj intoksikacii [The state of the pool of free amino acids in the blood and liver in chronic alcohol intoxication]. Zhurnal Grodnenskogo gosudarstvennogo medicinskogo universiteta [Journal of the Grodno State Medical University]. 2010;(2):16-19. (Russian).

19. Fischer JE, Rosen HM, Ebeid AM, James JH, Keane JM, Soeters PB. The effect of normalization of plasma amino acids on hepatic encephalopathy in man. Surgery. 1976;80(1):77-91.

20. Fischer JE, Baldessarini RJ. False neurotransmitters and hepatic failure. Lancet. 1971;2(7715):75-80. doi: 10.1016/s0140-6736(71)92048-4.

21. Adamenko EI, Silivonchik NN, Popova OP, Poleshko GD, Kuvaeva ZI. Sostav svobodnyh aminokislot syvorotki krovi u bolnyh cirrozom pecheni [The composition of the free amino acids of blood serum in patients with cirrhosis of the liver]. Medicinskij zhurnal [Medical Journal]. 2005;1:16-19. (Russian).

22. Erjuhin IA, Shashkov BV. Jendotoksikoz v hirurgicheskoj praktike [Endotoxicosis in surgical practice]. Sankt-Peterburg: Logos; 1995. 304 p. (Russian).

23. Sheybak VM. Obmen svobodnyh aminokislot i KoA pri alkogolnoj intoksikacii [Exchange of free amino acids and CoA in alcohol intoxication]. Grodno: GrGMU; 1998. 153 p. (Russian).

24. Volf SB. Dinamika urovnja svobodnyh aminokislot pri razvitii gepatotoksicheskih reakcij na himioterapiju tuberkuleza [Dynamics of the level of free amino acids in the development of hepatotoxic reactions to tuberculosis chemotherapy]. Vestnik Vitebskogo gosudarstvennogo medicinskogo universiteta [Vestnik Of Vitebsk State Medical University]. 2007;6(4):76-82. (Russian).

25. Gulinskaya OV, Sheybak VM, Tsyirkunov VM. Ocenka pula svobodnyh aminokislot v syvorotke krovi pri kombinirovannom porazhenii pecheni u pacientov s saharnym diabetom 2-go tipa i hronicheskim gepatitom C [Evaluation of a pool of free amino acids in blood serum in combined liver damage in patients with type 2 diabetes mellitus and chronic hepatitis C]. Klinicheskaja infektologija i parazitologija [Clinical infectology and parasitology]. 2014;4:99-108. (Russian).

26. Jusupov AS, Daminova MN, Halikova ShA, Fajziev BO. Izmenenie aminokislotnogo sostava krovi pri hronicheskom virusnom gepatite C u detej [Change in blood amino acid composition in chronic viral hepatitis C in children]. Problemy i perspektivy sovremennoj nauki [Problems and prospects of modern science]. 2017;(17):68-71. (Russian).

27. Halikova ShA, Daminova MN. K voprosu o sostojanii aminokislotnogo spektra i oksida azota v syvorotke krovi pri hronicheskom virusnom gepatite С u detej [On the state of the amino acid spectrum and nitric oxide in blood serum in chronic viral hepatitis C in children]. Profilakticheskaja I klinicheskaja medicina [Preventive and clinical medicine]. 2010;(2):152-154. (Russian).

28. Pozdeev VK, Pozdeev NV, Nikitina OE. Gipergomocisteinemija, gipercisteinemija, glutamatnaja jeksajtotoksichnost, deficit taurina pri gepatite C [Hyperhomocysteinemia, hypercysteinemia, glutamate excitotoxicity, taurine deficiency in hepatitis C]. Rossijskij zhurnal gastrojenterologii, gepatologii, koloproktologii [Russian Journal of Gastroenterology, Hepatology, Coloproctology]. 2015;25(3):49-60. (Russian).

29. Pavlov VA. Vlijanie mikobakterij na adaptivnuju perestrojku v organizme morskih svinok pri dlitelnom vozdejstvii na nih PAU-soderzhashhih veshhestv [The effect of mycobacteria on adaptive rearrangement in the body of guinea pigs with prolonged exposure to PAH-containing substances]. Problemy tuberkuleza [Tuberculosis problems]. 1998;(1):51-53. (Russian).

30. Pozdeev VK. Rol nejromoduljatorov - glicina, D-serina I taurina v formirovanii jepileptiformnogo sindroma [The role of neuromodulators - glycine, D-serine and taurine in the formation of epileptiform syndrome]. Rossijsskij nejrohirurgicheskij zhurnal im. professora A.L. Polenova [Russian neurosurgical journal named after professor A. L. Polenov]. 2014;6:366-370. (Russian).

31. Shih EV, Mahova AA, Shumjanceva VV. Vozmozhnosti ispolzovanija taurina v kachestve sredstva, preduprezhdajushhego lekarstvennoe porazhenie pecheni [Possibilities of using taurine as a means of preventing drug damage to the liver]. Russkij medicinskij zhurnal [Russian Medical Journal]. 2015;23(13):754-758. (Russian).

32. Abdikerimov MM, Zholdoshev ST. Sravnitelnaja harakteristika gormonalnogo statusa u bolnyh HGS [Comparative characteristics of hormonal status in patients with CHC]. Mezhdunarodnyj zhurnal prikladnyh i fundamentalnyh issledovanij [International Journal of Applied and Basic Research]. 2016;(1):29-31. (Russian).

33. Kopin IJ, Jimerson DC, Markey SP, Ebert MH, Polinsky RJ. Disposition and metabolism of MHPG in humans: application to studies in depression. Pharmacopsychiatry. 1984;17(1):3-8. doi: 10.1055/s-2007-1017399.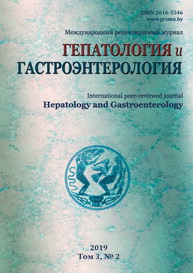 Просмотров аннотации: 69 Загрузок PDF: 38