ВЛИЯНИЕ ЭССЕНЦИАЛЬНЫХ ФОСФОЛИПИДОВ НА ТЕЧЕНИЕ НЕАЛКОГОЛЬНОЙ И АЛКОГОЛЬНОЙ ЖИРОВЫХ БОЛЕЗНЕЙ ПЕЧЕНИ
К.-Дж. Гундерман (K.-J. Gundermann)

Поморский медицинский университет, Щецин, Польша

М. Дроздзик (M. Drozdzik)

Поморский медицинский университет, Щецин, Польша

В. М. Цыркунов (V. M. Tsyrkunov)

УО «Гродненский государственный медицинский университет»

https://orcid.org/0000-0002-9366-6789
Ключевые слова:
неалкогольная жировая болезнь печени, алкогольная болезнь печени, эссенциальные фосфолипиды, полиенфосфатидилхолин, дилинолеоилфосфатидилхолин, мембрана
Аннотация
Введение. Несмотря на то, что эссенциальные фосфолипиды (ЭФЛ) из сои часто используются при мембранно-ассоциированных расстройствах и заболеваниях, их влияние на распространенные заболевания печени, особенно на жировые болезни печени разного происхождения, до сих пор широко не известны, в связи ч чем, и в настоящее время ведутся активные исследования.
Цель исследования – рассмотрение, обсуждение и обобщение имеющихся результатов по влиянию ЭФЛ на течение неалкогольной жировой и алкогольной болезней печени (НАЖБП и АБП).
Материалы и методы. Исследование базы данных проводилось в Medline, Embase, Кокрановской библиотеке, журналах конкретных стран и цитатах из литературы по соответствующим гепато-, гастроэнтерологическим статьям в период с 1988 по 2018 гг. Проанализированы только те документы, в которых указывалось, что минимальное количество извлечения фосфатидилхолина (ФХ) из сои составляло 72% со значительным содержанием 1,2- дилинолеоилфосфатидилхолина в качестве ключевого компонента ЭФЛ.
Результаты. ЭФЛ обладают хорошо зарекомендовавшим себя действием, терапевтической эффективностью и отсутствием токсичности, что обеспечивает клинически значимое соотношение эффективности и безопасности. ЭФЛ влияют на мембранозависимые клеточные функции, включая ферменты и рецепторы, и проявляют противовоспалительное, антиоксидантное, антифиброгенное, антиапоптозное, мембранопротекторное, клеточное сигнальное и липидорегулирующее действие. Благодаря своему положительному влиянию на состав и функции мембран, ЭФЛ ускоряют улучшение состояния пациентов или нормализацию субъективных симптомов, патологических клинических и биохимических результатов, визуализации состояния и гистологии печени. Эти данные являются обоснованием для применения ЭФЛ вместе с другими лекарственными средствами в терапии заболеваний печени.
Заключение. Фармакологические и клинические результаты подтверждают эффективность ЭФЛ в лечении жировой болезни печени.
Литература

1. Völzke H. H. Multicausality in fatty liver disease: is there arationale to distinguish between alcoholic and non-alcoholicorigin? World J. Gastroenterol. 2012;18(27):3492-3501.doi: 10.3748/wjg.v18.i27.3492.

2. Yu Y, Cai J, She Z, Li H. Insights into the epidemiology, pathogenesis, and therapeutics of nonalcoholic fatty liver diseases. Adv. Sci. 2019;6(4):1801585. doi: 10.1002/advs.201801585.

3. Younossi Z, Anstee QM, Marietti M, Hardy L, Hardy T, Henry L, Eslam M, George J, Bugianesi E. Global burden of NAFLD and NASH: trends, predictions, risk factors and prevention. Nat. Rec. Gastroenterol. Hepatol. 2017;15(1):11-20. doi: 10.1038/nrgastro.2017.109.

4.Diehl AM, Day C. Cause, pathogenesis, and treatment of nonalcoholic steatohepatitis. N. Engl. J. Med. 2017;377(21):2063-2072. doi: 10.1056/NEJMra1503519.

5.Michelotti GA, Machado MV, Diehl AM. NAFLD, NASH and liver cancer. Nat. Rev. Gastroenterol. Hepatol. 2013;10(11):656-665. doi: 10.1038/nrgastro.2013.183.

6.Orman ES, Odena G, Bataller R. Alcoholic liver disease: pathogenesis, management, and novel targets for liver therapy. J. Gastroenterol. Hepatol. 2013;28(Suppl 1):77-84. doi: 10.1111/jgh.12030.

7. Gundermann K-J, Kuenker A, Kuntz E, Drozdzik M. Activity of essential phospholipids (EPL) from soybean in liver diseases. Pharmacol. Rep. 2011;63(3):643-659.

8. Gundermann K-J, Gundermann S, Drozdzik M, Prasad VGM. Essential phospholipids in fatty liver: a scientific update. Clin. Exp. Gastroenterol. 2017;9:105-117. doi: 10.2147/CEG.S96362.

9. Lieber CS, Robins SJ, Li J, DeCarli LM, Mak KM, Fasulo JM, Leo MA. Phosphatidylcholine protects against fibrosis and cirrhosis in the baboon. Gastroenterolgy. 1994;106(1):152-159.

10.Oette K, Kühn G, Römer A, Niemann R, Gundermann K-J, Schumacher R. Resorption von Dilinoleoyl-Phosphatidylcholin nach oraler Gabe [Absorption of dilinoleoyl-phosphatidylcholine after oral administration]. Drug Res. 1995;45(8):875-879. (German).

11. Watanabe A, Kobayashi M, Morishita N, Nagashima H. Multimodal treatment resulting in rapid improvement of fatty liver in obese patients. Curr. Ther. Res. 1988;43(2):239-246.

12. Cairella M, Callisto F, Godi R, Marchini G. La fosfatidilcolina polinsatura associata a complesso vitaminico B nel trattamento del danni della funzione hepatobiliare da alimentazione squilibrata [Polyunsaturated phosphatidylcholine combined with vitamin B complex in the treatment of patients with disorders of the hepatobiliary function caused by unbalanced nutrition]. Clin Ter. 1989;131(4):237-246. (Italian).

13. Koga S, Irisa T, Miyata Y, Sakai H, Tsuji Y, Fujimoto Y, Masumoto A, Matsuura T, Sato M, Yokota M, Yamamoto F, Tokumatso M. [Clinical progress of 51 fatty liver cases analyzed by liver function tests and ultrasonic screening and results of EPL administered cases]. Prog. Med. 1991;11(7):1891-1899. (Japanese).

14. Li J-H, Chen X-Y, Zhong C-F, Min J. [A randomized controlled study of essential phospholipids (Essentiale capsules) in the treatment of fatty liver]. Infect. Dis. Info. 2000;13(4):180-181. (Chinese).

15. Gonciarz Z, Besser P, Lelek E, Gundermann KJ, Johannes KJ. Randomised placebo-controlled double blind trial on "essential" phospholipids in the treatment of fatty liver associated with diabetes. Méd Chir Dig. 1988;17(1):61-65.

16. Yin D, Kong L. [Observation for curative effect of Essentiale in treatment of fatty liver caused by diabetes mellitus]. Med. J. Q. 2000;15(4):277-278. (Chinese).

17. Poongothai S, Karkuzhali K, Siva Prakash G, Sangeetha T, Saravanan G, Deepa R, Gopalakrishnan S, Mohan V. Effect of essentiale in diabetic subjects with non-alcoholic fatty liver. Int. J. Diab. Dev. Countries. 2005;25(1):12-19.

18. Ohbayashi H, Fujimoto M, Yamase H, Ito M. Improvementof NASH with two-year treatment with oral polyenephosphatidylcholine.J. Rural Med. 2007;2(1):67-73. doi: 10.2185/jrm.2.67.

19. Buyeverov AO, Yeshanu VS, Mayevskaya MV, Ivashkin VT. Jessencialnye fosfolipidy v kompleksnoj terapii steatogepatita smeshannogo geneza [Application of essential phospholipids in complex therapy of steatohepatitis of the mixed origin]. Klinicheskie perspektivy gastrojenterologii, gepatologii [Clinical prospects of gastroenterology, hepatology]. 2008;(1):17-22. (Russian).

20. Sun C, Zheng X, Tan Z, Cui F, Zhang R, Zhang H. [Clinical observation on polyene phosphatidyl choline and metformin in the treatment of type 2 diabetes and non-alcoholic fatty liver disease]. Clin. Focus. 2008;23(17):1272-1273. (Chinese).

21. Sas E, Grinevich V, Efimov O, Shcherbina N. Beneficial influence of polyunsaturated phosphatidylcholine enhances functional liver condition and liver structure in patients with nonalcoholic steatohepatitis. Results of prolonged randomized blinded prospective clinical study. J. Hepatol. 2013;58(Suppl 1):S549. doi: 10.1016/S0168-8278(13)61365-3.

22. Ohbayashi H. [Twelve-month chronic administration of polyenephosphatidylcholine (EPL®) for improving hepatic function of fatty liver patients]. Prog Med. 2004;24(7):1751-1756. (Japanese).

23. Ohbayashi H, Fujimoto M, Yoshida M, Ito M, Yamase H. [The therapeutic effect of polyenephosphatidylcholine (EPL) on NASH]. Liver Bile and Pancreas. 2006;52(4):637-642. (Japanese).

24. Liang H. [Treatment of fatty liver applying polyene phosphatidyl choline]. Chin. Med. Factory Mine. 2006;19(3):207-208. (Chinese).

25. Fan XF, Deng YQ, Ye L, Li YD, Chen J, Lu WW, Li JP. Effect of Xuezhikang capsule on serum tumor necrosis factor-α and interleukin-6 in patients with nonalcoholic fatty liver disease and hyperlipidemia. Chin. J. Integr. Med. 2010;16(2):119-123. doi: 10.1007/s11655-010-0119-7.

26. Guo XL, Liang PX, Xu YQ. [Comparison of efficacies of diammonium glycyrrhizinate and polyene phosphatidylcholine on nonalcoholic steatohepatitis]. Chin. J. New Drugs. 2012;21(3):289-293. (Chinese).

27. Shen Z. [Observation of efficacy in 100 patients with non-alcoholic fatty liver disease treated with Essentiale]. Chin. J. Curr. Clin. Med. 2007;5(8):693-694. (Chinese).

28. Arvind N, Savaikar P, Rajkumar JS. Therapy for NAFLD – comparative study of essential phospholipids vs ursodeoxycholic acid. Ind. J. Clin. Pract. 2006;16(10):21-24.

29. Zhuang XS, Zhang ZJ. [Study of ursodeoxycholic acid (UDCA) combined with polyene phosphatidylcholine in the treatment of non-alcoholic steatohepatitis]. China Pract. Med. 2009;4(10):11-12. (Chinese).

30. Zhou SY, Sun ZY. [Therapeutic efficacy of polyunsaturated phosphatidylcholine on fatty liver disease]. J. Clin. Hepatol. 2010;26(3):286-287. (Chinese).

31. Hu G, Liu K, Zhao L. [Polyunsaturated phosphatidylcholine (Essentiale) for alcoholic/fatty liver: a systematic review]. Liver. 2005;10(1):5-7. (Chinese).

32. Panos MZ, Polson R, Johnson R, Portmann B, Williams R. Polyunsaturated phosphatidyl choline for acute alcoholic hepatitis: a double-blind, randomized, placebo-controlled trial. Eur. J. Gastroenterol. Hepatol. 1990;2(5):351-355.

33. Lieber CS, Weiss DG, Groszmann R, Paronetto F, Schenker S. II. Veterans affairs cooperative study of polyenylphosphatidylcholine in alcoholic liver disease. Alcohol. Clin. Exp. Res. 2003;27(11):1765-1772. doi: 10.1097/01.ALC.0000093743.03049.80.

34. Knüchel F. Doppelblindstudie bei Patienten mit alkoholtoxischer Fettleber. Der Einfluss von "essentiellen" Phospholipiden auf Enzym verhalten und Lipidzusammensetzung des Serums [FettleberDouble-blind study in patients with alcoholic fatty liver. The influence of "essential" phospholipids on enzyme behaviour and lipid composition of the serum]. Med Welt. 1979;30(11):411-416. (German).

35. Schüller Pérez A, Gonzáles San Martin F. Placebo-controlled study with polyunsaturated phosphatidylcholine in alcoholic steatosis of the liver. Med. Welt. 1985;36(16):517-521.

36. Lieber CS. New concepts of the pathogenesis of alcoholic liver disease lead to novel treatments. Curr. Gastroenterol. Rep. 2004;6(1):60-65.

37. Sas E, Grinevich V, Kravchuk U, Efimov O. Polyunsaturated phosphatidylcholine reduces insulin resistance and hepatic fibrosis in patients with alcoholic liver disease: results of randomized blinded prospective clinical study. J. Hepatol. 2011;54:S207. doi: 10.1016/S0168-8278(11)60508-4.

38. Cao Z, Zhang W, Wang W, Wang Y. Effect of reduced glkutathione combined with polyene phosphatidylcholine on indicators of liver function and liver fibrosis in the treatment of patients with alcoholic liver disease. Guangxi Med. J. 2017;39:334-337.

39. 39. Gundermann K-J, Lehmacher W. Niezbędne fosfolipidy w leczeniu choró wątroby – metaanaliza podwójnie ślepych prób klinicznych w przewlekłych chorobach wątroby [The essential phospholipids as liver therapeutic – a meta-analysis of double-blind trials in chronic liver disease]. Gastroenterol Polska. 1998;5(6):553-559. (Polish).

40. Adams LA, Angulo P. Treatment of non-alcoholic fatty liver disease. Postgrad Med. J. 2006;82(967):315-322.

41. Ling J, Chaba T, Zhu LF, Jacobs RL, Vance DE. Hepatic ratio of phosphatidylcholine to phosphatidylethanolamine predicts survival after partial hepatectomy in mice. Hepatology. 2012;55(4):1094-1102.

42. International Diabetes Federation. The IDF consensus worldwide definition of the metabolic syndrome [Internet]. Brussels; 2006. 24 p. Available at: https://www.idf.org/e-library/consensus-statements/60-idfconsensus-worldwide-definitionof-the-metabolicsyndrome.

43. Klinger W, Gundermann KJ. (3-sn-phosphatidyl)choline in hyperlipoproteinemia [3-sn- Phosphatidyl)cholin bei Hyperlipoproteinämien]. Dtsch Ärztebl. 1992;26(Suppl):24-25. (German).

44. Kirsten R, Heintz B, Nelson K, Schneider E, Oremek G, Nemeth N. Polyenylphosphatidylcholine improves the lipoprotein profile in diabetic patients. Int. J. Clin. Pharmacol. Ther. 1994;32(2):53-56.

45. Okiyama W, Tanaka N, Nakajima, T, Tanaka E, Kiyosawa K, Gonzalez FJ, Aoyama T. Polyenephosphatidylcholine prevents alcoholic liver disease in PPARα-null mice through attenuation of increases in oxidative stress. J Hepatol. 2009;50(6):1236-1246. doi: 10.1016/j.jhep.2009.01.025.

46. Lieber CS, Weiss DG, Groszmann R, Paronetto F, Schenker S; Veterans Affairs Cooperative Study 391 Group. I. Veterans Affairs Cooperative Study of polyenylphosphatidylcholine in alcoholic liver disease: effects on drinking behavior by nurse/physician teams. Alcohol Clin Exp Res. 2003;27(11):1757-1764.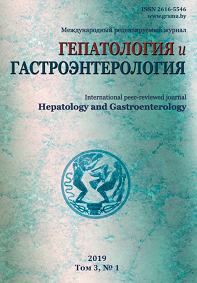 Просмотров аннотации: 375 Загрузок PDF: 160