СЕЛЕКТИВНАЯ ДЕВАСКУЛЯРИЗАЦИЯ ДНА ЖЕЛУДКА У ПАЦИЕНТОВ С ХРОНИЧЕСКИМ ПАНКРЕАТИТОМ И ПОДПЕЧЁНОЧНОЙ ПОРТАЛЬНОЙ ГИПЕРТЕНЗИЕЙ. Предварительное сообщение о серии случаев
Э. В. Могилевец

УО "Гродненский государственный медицинский университет", Гродно, Беларусь

https://orcid.org/0000-0001-7542-0980

П. В. Гарелик

УО "Гродненский государственный медицинский университет", Гродно, Беларусь
Ключевые слова:
хронический панкреатит, портальная гипертензия, варикозно расширенные вены пищевода, селективная эзофагогастральная деваскуляризация
Аннотация
Введение. Вопрос о выборе и приоритезации метода лечения и профилактики кровотечений из варикозно расширенных вен (ВРВ) пищевода и желудка у пациентов с подпечёночной портальной гипертензией (ППГ) остается предметом дискуссий, в связи с чем актуально проведение исследований в данном направлении. Цель исследования – предварительный анализ результатов выполнения селективной деваскуляризации дна желудка у пациентов с хроническим рецидивирующим панкреатитом (ХРП) и ППГ. Материал и методы. Селективная деваскуляризация дна желудка выполнена у 5 пациентов (3 мужчин и 2 женщины) в возрасте от 23 до 54 лет с ХРП и наличием ППГ. У 2 пациентов в качестве основной операции выполнялась панкреатоцистоеюностомия с выключенной по Ру петлей тощей кишки, у 3 – Бернский вариант операции Бегера. Селективная деваскуляризация дна желудка была дополнением дренирующей либо резекционно-дренирующей операции. Результаты. Все пациенты успешно перенесли операцию. Продолжительность операции (Me [min; max]) составила 205 [190; 255] минут. Время нахождения в отделении анестезиологии, реанимации и интенсивной терапии составило 1 [1; 2] сутки. В течение послеоперационного наблюдения за указанными пациентами за период от 17 до 58 месяцев рецидивов кровотечений из ВРВ не отмечено. У всех пациентов при эндоскопическом исследовании через год отмечена регрессия степени расширения ВРВ. Выводы. Предложенный способ селективной деваскуляризации дна желудка обоснован многочисленными исследованиями вариантной анатомии венозного оттока от селезенки в условиях ВПГ. Метод позиционируется как пособие, являющееся дополнением для дренирующей либо резекционно-дренирующей операции у пациентов с ХРП и ППГ, выполнявшееся с целью профилактики кровотечений из ВРВ дна желудка. Следует отметить технологичность и воспроизводимость оперативного вмешательства, его эффективность и безопасность. Целесообразно дальнейшее проведение исследования эффективности методики в рандомизированных контролируемых испытаниях.
Литература
Garcia-Pagán JC, Hernández-Guerra M, Bosch J. Extrahepatic portal vein thrombosis. Semin Liver Dis. 2008;28(3):282-92. https://doi.org/10.1055/s-0028-1085096.
Latorre Fragua RA, Manuel Vazquez A, Lopez Marcano AJ, Gijón de la Santa L, de la Plaza Llamas R, Ramia Ángel JM. Pancreatic Surgery in Chronic Pancreatitis Complicated by Extrahepatic Portal Hypertension or Cavernous Transformation of the Portal Vein: A Systematic Review. Scand J Surg. 2019;109(6):1-10. https://doi.org/10.1177/1457496919857260.
Zheng K, Guo X, Feng J, Bai Z, Shao X, Yi F, Zhang Y, Zhang R, Liu H, Romeiro FG, Qi X. Gastrointestinal Bleeding due to Pancreatic Disease-Related Portal Hypertension. Gastroenterol Res Pract. 2020;2020(2):3825186. https://doi.org/10.1155/2020/3825186.
Pal S, Mangla V, Radhakrishna P, Sahni P, Pande GK, Acharya SK, Chattopadhyay TK, Nundy S. Surgery as primary prophylaxis from variceal bleeding in patients with extrahepatic portal venous obstruction. J Gastroenterol Hepatol. 2013;28(6):1010-4. https://doi.org/10.1111/jgh.12123.
Zhang Z, Chen X, Li C, Feng H, Yu H, Zhu R, Wang T. Safety and Efficacy of a Novel Shunt Surgery Combined with Foam Sclerotherapy of Varices for Prehepatic Portal Hypertension: A Pilot Study. Clinics (Sao Paulo). 2019;74:e704. https://doi.org/10.6061/clinics/2019/e704.
Ławniczak M, Raszeja-Wyszomirska J, Marlicz W, Białek A, Wiechowska-Kozłowska A, Lubikowski J, Wójcicki M, Starzyńska T. Nawracajace krwawienia z zylaków przełyku u chorej z zakrzepica zyły wrotnej i sledzionowej w przebiegu złozonej trombofilii [Recurrent variceal bleeding in a patient with portal and splenic vein thrombosis secondary to complex thrombophilia]. Pol Merkur Lekarski. 2008;25(146):150-2. (Polish).
Mahiliavets EV, Batvinkov NI, inventors; Mahiliavets EV, Batvinkov NI, assignee. Sposob profilaktiki krovotechenij iz varikozno rasshirennyh ven pishhevoda i zheludka pri podpechenochnoj portalnoj gipertenzii na fone hronicheskogo pankretita : BY patent 21339. 2017 Nov 30. (Russian).
Butler JR, Eckert GJ, Zyromski NJ, Leonardi MJ, Lillemoe KD, Howard TJ. Natural history of pancreatitis-induced splenic vein thrombosis: a systematic review and meta-analysis of its incidence and rate of gastrointestinal bleeding. HPB (Oxford). 2011;13(12):839-45. https://doi.org/10.1111/j.1477-2574.2011.00375.x.
Shah SR, Deshmukh HL, Mathur SK. Extensive portal and splenic vein thrombosis: differences in hemodynamics and management. Hepatogastroenterology. 2003;50(52):1085-9.
Sharma M, Rameshbabu CR. Collateral pathways in portal hypertension. J Clin Exp Hepatol. 2012;2(4):338-52. https://doi.org/10.1016/j.jceh.2012.08.001.
Menon KV, Kamath PS. Regional and systemic hemodynamic disturbances in cirrhosis. Clin Liver Dis. 2001;5(3):617-27. https://doi.org/10.1016/s1089-3261(05)70184-7.
Cichoz-Lach H, Celiński K, Słomka M, Kasztelan- Szczerbińska B. Pathophysiology of portal hypertension. J Physiol Pharmacol. 2008;59(Suppl 2):231-238.
Moubarak E, Bouvier A, Boursier J, Lebigot J, Ridereau-Zins C, Thouveny F, Willoteaux S, Aubé C. Portosystemic collateral vessels in liver cirrhosis: a three-dimensional MDCT pictorial review. Abdom Imaging. 2012;37(5):746-66. https://doi.org/10.1007/s00261-011-9811-0.
Koito K, Namieno T, Nagakawa T, Morita K. Balloon-occluded retrograde transvenous obliteration for gastric varices with gastrorenal or gastrocaval collaterals. AJR Am J Roentgenol. 1996;167(5):1317-1320. https://doi.org/10.2214/ajr.167.5.8911204.
Wind P, Alves A, Chevallier JM, Gillot C, Sales JP, Sauvanet A, Cuénod CA, Vilgrain V, Cugnenc PH, Delmas V. Anatomy of spontaneous splenorenal and gastrorenal venous anastomoses. Review of the literature. Surg Radiol Anat. 1998;20(2):129-34. https://doi.org/10.1007/s00276-998-0129-8.
Sarin SK, Agarwal SR. Extrahepatic portal vein obstruction. Semin Liver Dis. 2002;22(1):43-58. https://doi.org/10.1055/s-2002-23206.
Shin SM, Kim S, Lee JW, Kim CW, Lee TH, Lee SH, Kim GH. Biliary abnormalities associated with portal biliopathy: evaluation on MR cholangiography. AJR Am J Roentgenol. 2007;188(4):341-347. https://doi.org/10.2214/AJR.05.1649.
Sharma M. Bleeding after endoscopic biliary sphincterotomy. J Clin Exp Hepatol. 2011;1(1):45-47. https://doi.org/10.1016/S0973-6883(11)60117-5.
Widrich WC, Srinivasan M, Semine MC, Robbins AH. Collateral pathways of the left gastric vein in portal hypertension. AJR Am J Roentgenol. 1984;142(2):375-382. https://doi.org/10.2214/ajr.142.2.375.
Kamel IR, Lawler LP, Corl FM, Fishman EK. Patterns of collateral pathways in extrahepatic portal hypertension as demonstrated by multidetector row computed tomography and advanced image processing. J Comput Assist Tomogr. 2004;28(4):469-77. https://doi.org/10.1097/00004728-200407000-00006.
Ishigami K, Sun S, Berst MJ, Heery SD, Fajardo LL. Portal vein occlusion with aberrant left gastric vein functioning as a hepatopetal collateral pathway. J Vasc Interv Radiol. 2004;15(5):501-504. https://doi.org/10.1097/01.rvi.0000126810.67111.ca.
Jung SC, Lee W, Chung JW, Jae HJ, Park EA, Jin KN, Shin CI, Park JH. Unusual causes of varicose veins in the lower extremities: CT venographic and Doppler US findings. Radiographics. 2009;29(2):525-536. https://doi.org/10.1148/rg.292085154.
Hashimoto M, Heianna J, Yasuda K, Tate E, Watarai J, Shibata S, Sato T, Yamamoto Y. Portal flow into the liver through veins at the site of biliary-enteric anastomosis. Eur Radiol. 2005;15(7):1421-1425. https://doi.org/10.1007/s00330-005-2667-3.
Seeger M, Günther R, Hinrichsen H, Both M, Helwig U, Arlt A, Stelck B, Bräsen JH, Sipos B, Schafmayer C, Braun F, Bröring DC, Schreiber S, Hampe J. Chronic portal vein thrombosis: transcapsular hepatic collateral vessels and communicating ectopic varices. Radiology. 2010;257(2):568-578. https://doi.org/10.1148/radiol.10100157.
Ibukuro K, Ishii R, Fukuda H, Abe S, Tsukiyama T. Collateral venous pathways in the transverse mesocolon and greater omentum in patients with pancreatic disease. AJR Am J Roentgenol. 2004;182(5):1187-1193. https://doi.org/10.2214/ajr.182.5.1821187.
Rosado ID, Bhalla S, Sanchez LA, Fields RC, Hawkins WG, Strasberg SM. Pattern of Venous Collateral Development after Splenic Vein Occlusion in an Extended Whipple Procedure (Whipple at the Splenic Artery) and Long-Term Results. J Gastrointest Surg. 2017;21(3):516-526. https://doi.org/10.1007/s11605-016-3325-6.
Hattori M, Fujii T, Yamada S, Inokawa Y, Suenaga M, Takami H, Kanda M, Sugimoto H, Nomoto S, Murotani K, Nakao A, Kodera Y. Significance of the Splenic Vein and Its Branches in Pancreatoduodenectomy with Resection of the Portal Vein System. Dig Surg. 2015;32(5):382-8. https://doi.org/10.1159/000438797.
Tanaka H, Nakao A, Oshima K, Iede K, Oshima Y, Kobayashi H, Kimura Y. Splenic vein reconstruction is unnecessary in pancreatoduodenectomy combined with resection of the superior mesenteric vein-portal vein confluence according to short-term outcomes. HPB (Oxford). 2017;19(9):785-792. https://doi.org/10.1016/j.hpb.2017.02.438.
Tanaka M, Ito H, Ono Y, Matsueda K, Mise Y, Ishizawa T, Inoue Y, Takahashi Y, Hiratsuka M, Unno T, Saiura A. Impact of Portal Vein Resection with Splenic Vein Reconstruction after Pancreatoduodenectomy on Sinistral Portal Hypertension: Who Needs Reconstruction? Surgery. 2019;165(2):291-297. https://doi.org/10.1016/j.surg.2018.08.025.
Yu X, Bai X, Li Q, Gao S, Lou J, Que R, Yadav DK, Zhang Y, Li H, Liang T. Role of Collateral Venous Circulation in Prevention of Sinistral Portal Hypertension after Superior Mesenteric-Portal Vein Confluence Resection During Pancreaticoduodenectomy: A Single-Center Experience. J Gastrointest Surg. 2019;24(9):2054-2061. https://doi.org/10.1007/s11605-019-04365-z.
Kamimura H, Ishikawa T, Ishihara N, Terai S. Specific Gastric Blood Vessels in Sinistral Portal Hypertension. Intern Med. 2018;57(7):1053-1054. https://doi.org/10.2169/internalmedicine.9699-17.
Tsukamoto T, Ikuta T, Uenishi T, Shuto T, Tanaka H, Kubo S, Hirohashi K, Kinoshita H. Laparoscopic Splenectomy for Variceal Bleeding with Non-Cirrhotic Portal Vein Thrombosis: A Case Report. Hepatogastroenterology. 2003;50(50):574-576.
Hayashi H, Shimizu A, Motoyama H, Kubota K, Notake T, Ikehara T, Yasukawa K, Kobayashi A, Soejima Y. Left- sided Portal Hypertension Caused by Idiopathic Splenic Vein Stenosis Improved by Splenectomy: A Case Report. Surg Case Rep. 2020;6(1):148. https://doi.org/10.1186/s40792-020-00912-y.
Tsamalaidze L, Stauffer JA, Brigham T, Asbun HJ. Postsplenectomy Thrombosis of Splenic, Mesenteric, and Portal Vein (PST-SMPv): A Single Institutional Series, Comprehensive Systematic Review of a Literature and Suggested Classification. Am J Surg. 2018;216(6):1192- 1204. https://doi.org/10.1016/j.amjsurg.2018.01.073.
Mada PK, Castano G, Joel Chandranesan AS. Invasive Group B Streptococcal Infection with Toxic Shock-Like Syndrome in a Postsplenectomy Patient. Case Rep Infect Dis. 2020:4048610. https://doi.org/10.1155/2020/4048610.
Lee J-H, Han H-S, Kim H-A, Koo M-Y. Long-term Results of Fundectomy and Periesophagogastric Devascularization in Patients with Gastric Fundal Variceal Bleeding. World J Surg. 2009;33(10):2144-2149. https://doi.org/10.1007/s00268-009-0153-9.
Zuiki T, Hosoya Y, Sakuma Y, Hyodo M, Lefor AT, Sata N, Nagamine N, Isoda N, Sugano K, Yasuda Y. Laparoscopic Gastric Devascularization without Splenectomy is Effective for the Treatment of Gastric Varices. Int J Surg Case Rep. 2016;19:119-123. https://doi.org/10.1016/j.ijscr.2015.12.036.
Overhaus M, Park LG, Fimmers R, Glowka TR, van Beekum C, Manekeller S, Kalff JC, Schaefer N, Vilz T. The Devascularisation Procedure for the Treatment of Fundic and Oesophageal Varices in Portal Hypertension - A Retrospective Analysis of 55 Cases. Zentralbl Chir. 2018;143(5):480-487. https://doi.org/10.1055/a-0710-5095.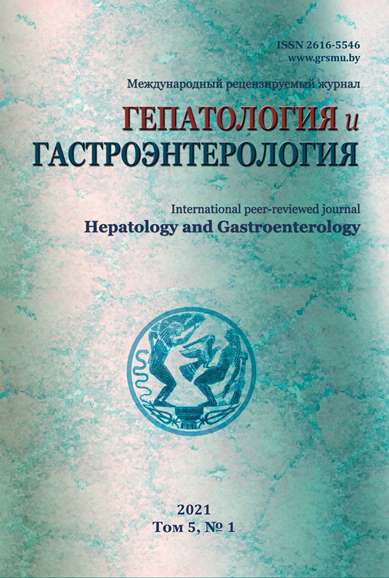 Как цитировать
1.
Могилевец ЭВ, Гарелик ПВ. СЕЛЕКТИВНАЯ ДЕВАСКУЛЯРИЗАЦИЯ ДНА ЖЕЛУДКА У ПАЦИЕНТОВ С ХРОНИЧЕСКИМ ПАНКРЕАТИТОМ И ПОДПЕЧЁНОЧНОЙ ПОРТАЛЬНОЙ ГИПЕРТЕНЗИЕЙ. Предварительное сообщение о серии случаев. journalHandG [Интернет]. 14 июнь 2021 г. [цитируется по 22 сентябрь 2023 г.];5(1):71-8. доступно на: http://hepatogastro.grsmu.by/index.php/journalHandG/article/view/186
Раздел
Оригинальные исследования